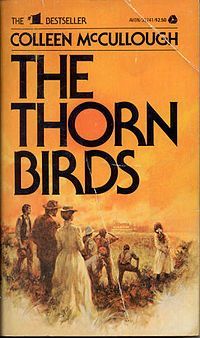 I was saddened to hear this past week that Colleen McCullough passed away at the age of 77. There are many writers who have had an impact on me, from Diana Palmer and Nora Roberts when I was a teen, to Diana Gabaldon, Anne Stuart and Jodi Picoult later on. But the one who gripped me first with the greatest understanding of forbidden love—and that when love is mutual, it should never be forbidden—was Colleen McCullough. Sadly, it's too late to tell her that I'm grateful for the passion and richness she spilled into her work, but if I could, this is what I'd say:
Dear Ms. McCullough,
Thank you, thank you, thank you! I've been a fan of your work since I watched The Thorn Birds with my parents and siblings on TV. I know, you absolutely hated Hollywood's adaptation of your Australian Outback saga, so I won't go into how I spoke in an (incredibly awful) Australian accent for months afterward, or how I asked for one of those long Duster coats, flat-crowned, wide-brimmed hats, and a sheep to shear for Christmas (apparently I believed fashionable outerwear was extremely important when it came to sheep-shearing).
I will tell you that it inspired a life-long devotion to the trope of forbidden love, and how we humans constantly set ourselves up to fail when it comes to resisting temptation.
When I was first introduced to you, I had no idea I was destined to become a published author, but I was already writing. Or, to put a finer point on it, I was rewriting books I'd already read. If I didn't like how they ended, or if there wasn't any kissing involved, I'd write these huge scenes that I felt should have been in the original work (little did I know that I was inventing fanfic, heh).
But when I saw The Thorn Birds, all I could think was that it had been the most perfect thing I had ever seen, and I couldn't dream of rewriting a single scene (quite a huge stamp of approval from an obviously opinionated ten-year-old!). 😀 But once it was over, I didn't want to lose Ralph, Meggie and beautiful Drogheda, so I connived to get my hands on a copy of the book. I eventually managed to sneak it out of my older sister's room and proceeded to spend much of that summer hidden in the closet reading a book that only vaguely resembled what I had watched on TV.
That was the summer I learned that it's true what they say—the book is always better.
I suspect a hint of your literary DNA can be found in just about every first-kiss scene I've ever written, because the first kiss Meggie stole from Father Ralph was a scene I've read at least a hundred times. I was thrilled for Meggie, because she saw it like I did—no barriers, just a perfect fit that was meant to be. Ralph's torment, though, was so delicious and his desire so stark, that it literally took my breath away. They were experiencing the same event, but on complete opposite sides of the coin—Meggie, filled with light, and Ralph filled with overwhelming darkness. To date, I've never read a more riveting first-kiss scene, and I think, as I sat there in a suffocating closet reading a book that I wasn't supposed to even touch, that was when the romance writer in me was born.
So I'm going to end this fan letter as I began it, by thanking you for lighting that fire in me. Now that I'm older, I appreciate even more the struggles and turmoil we silly humans trip ourselves up with. Yet amazingly, despite those struggles, we still manage to believe in love, and even find it on occasion. You taught me that the barriers existing in our own minds, in our families or in the societies in which we live, are nothing if you're willing to fight for what you love. These lessons, like your writing, will live forever.
Your everlasting fan,
Stacy