Thank you, Contemporary Romance Café, for the lovely invitation to guest blog. This is
a wonderful topic for me, as I read at least four books a week. I'd rather read than watch TV. I only watch a blockbuster movie after reading the novel, and have been told that makes me a purist. ; )
Before beginning the discovery stage of writing a new novel, I read up. What does that mean? I delve into books that contain complex matter, that use literary prose, that ask the deep psychological questions. These books have often won the Pulitzer Prize, or the Man Booker. I stay away from my favorite contemporary romance, or anything lighthearted. I choose to sink into and explore the moral values of a character and the implications of choices if they go against their basic moral code. I question what I might have done if given the same set of circumstances, which brings me to this wonderful story that is both a romance and a tragedy: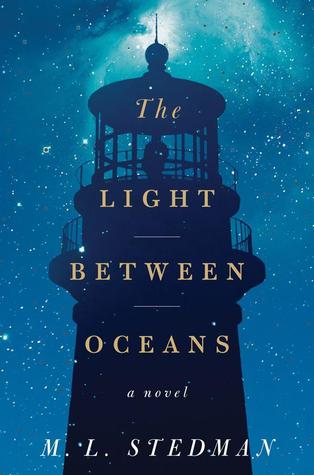 The Light Between Oceans, by M.L. Stedman.
I read this book without knowing the author is female. Some chapters are written from the heroine's viewpoint, but the story to me was the hero's journey. It's a post-World War 1 story, about a stoic highly-principled returned veteran who seeks only peace and quiet, until he meets the young high-spirited heroine and falls in love. When she gives up her life on the mainland to live on a small island off the coast of Western Australia, and becomes the lighthouse keeper's wife, he is overjoyed. I think with this isolation, the author did an amazing job of keeping the conflict going, upping the stakes, and maintaining reader interest.
The moral issue in this story stems from the heroine living in isolated conditions, having miscarried several times and learning she will never give birth, plus, a husband who adores his wife and would give her anything. Only weeks after burying her stillborn child, a boat washes up on the island and the man inside is dead. There is a tiny baby still alive. They keep the baby and bury the man. The lighthouse keeper never files a report. The complications that arise from their decision, her nurturing and devotion, his love for the child, his increasing guilt, all comes to a head when they return to the mainland on leave, and learn the identity of the grieving widow and young mother.
One decision has affected so many. Should they confess? If he confesses will it tear apart their marriage? Will he be entrusted to another commission at a lighthouse? There is the biological mother, and her family, to consider. There are grandparents of the heroine. There is an entire town misled by this one decision. There is a young child who has never known any other parents. What would you do?
*****I gave it five stars.  There was nothing I would have done differently…if I'd had the chops to write this book. The pacing is perfect, because it allows the story to unfold like the petals of a rose, one layer at a time, but like the rose, there are also sharp thorns to navigate. This is a debut novel, and it has been optioned for film by Stephen Spielberg's Dreamtime Studios.
Bio: Robena Grant has published four romantic suspense novels. Her first
contemporary romance, an adventure with a dash of magic, Corsica Gate, will be published in the fall of 2014. An avid reader, and lover of all things writing related, Robena also enjoys travel, fine dining, good wine, and yes…even karaoke.
She may be contacted at www.robenagrant.com or you can follow her on Twitter or Facebook. Her Amazon page: http://tinyurl.com/pdndrxr  Wild Rose Press: http://tinyurl.com/keymgfw