Day 1
A SHINY NEW PROJECT!
*boingboingboing* I'm sooo excited about this great new idea, I can't wait to get started! Character essays—check. Back stories of secondary characters, all the way down to nicknames and how they part their hair—check. Two to three stunning "reveal" scenes before the "black moment" and ultimate resolution—check!
OH MY GOD IT'S GOING TO BE THE BEST BOOK EVER!!! *flails*
Day 6
Man, it's flowing great! In less than a week I've got four chapters DONE, and it's all weaving itself so nicely together… except I did forget to mention time and place in the first five-hundred words. That's okay, though—I'll just make a note here to do that. And did I even mention the heroine's crippling nyctophobia? I'm going to need that seemingly idle mention later on as a bread crumb, leading to the BIG REASON WHY she's so intensely afraid of the dark. Better make a note of that. But now… off to research fear of the dark. Yay, research!
Day 14
Okay, seriously now… I may have spent the better part of yesterday looking at cat videos and playing on Facebook instead of doing legitimate research, but today is a different story! I'm focused. Like, for real. I've got the hero and heroine's first big kiss on tap for today, and since it's the last "first kiss" these two people will ever have, it's got to be the best kiss ever written, better than Rhett and Scarlett. No pressure, but c'mon, Stace, hit this ball outta the park!
Oh look, my sis just sent me an email… wif widdle kitties! Awwwwwww…….
Day 15
They're still kissing. Jeebus, why the F#*% are these idiots still kissing???
Day 23
Ugh. Done. Bye-bye, longest-kiss-in-literary-history. Now what?
Day 39
Okay, we're back on track, and it's clicking right along. Hero and heroine are on the commuter train, and they still don't trust each other, thanks to Cousin Jeffrey's scheming. BUT!… the commuter train heads into Connecticut and breaks down in the middle of a tunnel, making it super-dark for our nyctophobic heroine… wait. Are there long, dark tunnels on commuter rail lines in Connecticut? I'm in Texas. How should I know? WHY DID I LOCATE THIS IN CONNECTICUT??? Make a note—research commuter rail lines in Connecticut.
Day 50
BIG day today! First sex scene's got to really make a statement—super-hot with dirty talk and great positions that'll make every woman wish they had this talented and imaginative hero as their own. Already sketched out the initial moments right here… wait. According to this, I have the hero's hands on her butt, her thigh AND her breast.  Holy sh!t, this freak has three hands!
Day 51
They're still going at it, my constantly edging-on-orgasm heroine and the three-handed freak. How can choreography on ice be so easy for me, but during a sex scene my heroine always winds up gasping like a landed grouper, and I lose track of how many appendages my hero has? I need to make a note to remind myself to review the sex chorey… if there is such a thing.
Wait. Is there such a thing as sex choreography? I wonder if there's any money in that…
Day 52
They're. STILL. Doing. It.
Day 58
I hate these people.
I hate this story.
I'm the worst writer EVER.
Day 70
I don't believe it. I think I can see the light at the end of the tunnel, and everything is coming together like I actually planned it that way. HA! Wait. Tunnel… wasn't I supposed to research something about tunnels?
WHERE THE F#*% ARE MY NOTES???
Day 89
Oh thank GOD, I'm almost done. And you know something, this project might not be so bad. In fact, I had a lot of fun writing it. Yay, I love writing! Oh, and I just had a new idea.  *boingboingboing* Ooooh, gotta hurry up and finish this project so I can get to the next one, because it's going to be the BEST BOOK EVER!!! *flails*
 ****
And there it is, my basic step-by-step process on how to lose your mind (also known as writing a book).
My latest, HOUSE OF PAYNE: TWIST, came out last month and it's hit a couple Amazon best seller's lists for Coming Of Age Romance and New Adult Romance–woohoo! You can bet its creation went very much along these lines. Pretty glam, right? 😀
Thank you all for reading!
Blurb for HOUSE OF PAYNE: TWIST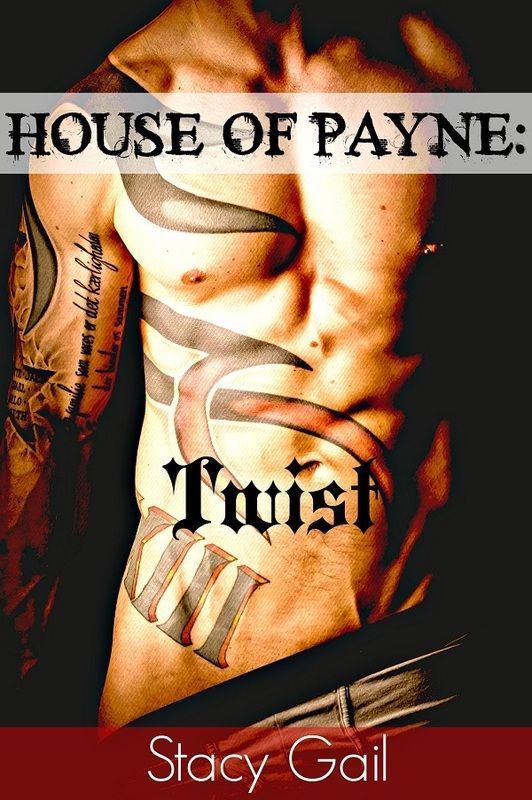 Tattooist. Artist. Dreamer. 
Angel had been a schoolgirl when she came to House Of Payne, a displaced princess with only a fanciful imagination to her name. Now the world clamors for her designs, but that means nothing to Goth tattooist, Twist. Long ago she craved to see admiration in his sexy dark eyes, but after years of enduring his contempt, she's given up. Leaving the House feels like running, but Twist makes it impossible to stay. 
Tattooist. Artist. Ex-Con. 
Two words came to Twist's mind when he first saw Angel—jail bait. When he'd been released from prison for a crime he would commit again in a heartbeat, he'd nevertheless been determined to keep his nose clean. Too bad he couldn't stop from thinking about getting into the pants of the House's fairy tale princess. But with a past like his, he's no good for Angel. All he can do is watch over her from afar… whether she likes it or not. 
When Angel is injured, Twist appoints himself as her personal caretaker. She soon discovers that beneath his arrogant façade lies the heart of a devoted protector. She's going to need that protection, as Twist's past has made an unsettling reappearance… 
90,000 words 
***This is the third book in the House Of Payne series, but each book can be read as a standalone. Not intended for readers under the age of 18 due to adult language and sexual content***